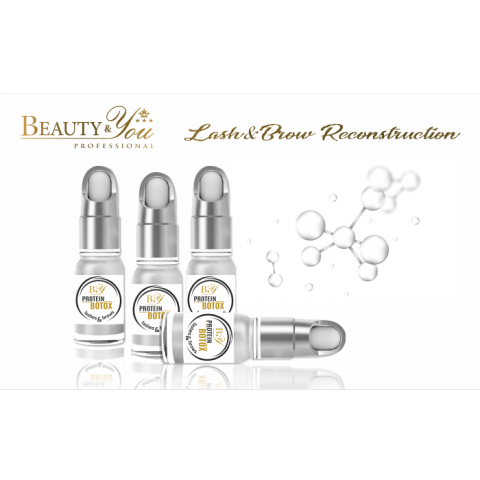 The composition of eyelashes and eyebrow Beauty&You Botox protein reconstruction product is created as a key element of the procedure for restoring the natural structure, deeply moisturizing and increasing the volume of eyelashes and eyebrows. It is used for eyelash and eyebrow lamination and protein restoration procedures. The unique composition of the product restores and nourishes eyelashes and eyebrows from the inside!
Hyaluronic acid deeply moisturizes and nourishes eyelashes and eyebrows, restores hair structure, stimulates growth and protects eyelashes and eyebrows from negative environmental impact.
Hydrolysed keratin fills the hair cavities with proteins, reduces porosity so that eyelashes and eyebrows get shine and elasticity.
Collagen helps to restore damaged eyelash and eyebrow structure and increase their elasticity.
Usma oil acts as one of the most powerful eyelash and eyebrow growth activators. It nourishes and strengthens the hair follicle. Tocopherol has a rejuvenating and restorative effect.
Panthenol nourishes, strengthens and thickens eyelashes and eyebrows and makes them smooth.
Coconut extract has a restorative and protective effect.